Port Richey Property Management
Let Us Manage Your Port Richey Rental Property
We offer a full range of property management services tailored to your needs as an investor. We manage an extensive portfolio of single family homes, townhouses and condos in the Tampa Bay and Lakeland areas.
Property Management Inquiries
Leasing and Property Management Services for the Global Investor
To meet the needs of our Global Investor Clients, Berkshire Hathaway HomeServices Florida Properties Group places special emphasis on:
Local Market Expertise
Our Interactive Website with Cloud Technology that can be Accessed 24/7
Owner / Tenant Portals that Provide a Conversation Feature
Knowledge of Property Restrictions & Regulations as they Pertain to Rental Property
Our City 24/7 Curbside Mobile Technology Delivers Information on your Listing to the User's Cell Phone
Software that Displays our Listings on any Mobile Device
Fully Compliant Trust Accounting
Our Professional Property Managers serve as your trusted Real Estate Advisors:
Timely Communication and Feedback
Evaluation as it Affects Rental Value
Market Rent Determination
Marketing Exposure on www.RentAHomeWithUs.com and MLS
Execution of an Attorney Prepared Lease
Credit, Civil and Criminal Background Checks
Consistent Application of Screening Policy
3rd Party Professional Inspection Service
Attention to Tenant needs Promptly
24/7 Maintenance Dispatch Service
Rental Collection and Owner Disbursement
Security Deposit Claim Preparation and Dispute Resolution
Benefits of using Berkshire Hathaway HomeServices Florida Properties Group
You own rental investment properties to make money. If you have been struggling to manage your rentals on your own, you may have found it is not as easy as it sounds to balance costs versus returns. When you come to us for your Port Richey and Lakeland property management needs we will help you in the following ways:
Dynamic Marketing Services

Powerful Screening Tools

Putting quality tenants into your vacancies is one of the most important aspects of the equation. We thoroughly screen prospects through Leasing Desk® for their credit, civil and criminal records and we always check their source of income and landlord references.

Additionally we use an online pet screening service to determine the risk each animal poses to the landlord.

Comprehensive Maintenance Services

There are no middle of the night calls for you when we handle your Port Richey property management needs. We can handle it all for you from routine repairs to regular maintenance through our Building Services Dispatcher who serves the greater Port Richey/Lakeland Area. We work aggressively to keep an eye on your bottom line while protecting you from the liability of improperly licensed or non-insured vendors.

Our Residential Asset Property Manager will manage the relationship between you and your tenant's repair needs using 24/7 Dispatching Coordinator. There are many vendors to choose from, but we require maintenance provides to maintain any required license, liability insurance, workers comp or state issued exemption and vehicle insurance as a protection to the property owner.

Tenants can be hard on rental properties but so can allowing a property to age without proper preventative maintenance. The Florida sun and humidity lessen the life of most paint and roof products. Aging hot water heaters and water connection lines to appliances can spring leaks.

When a tenant contacts us with a service request, our first step is to trouble-shoot the issue directly with the tenant. If we resolve the issue over the phone with the tenant, there is no charge to you or the tenant; this service is part of our monthly management fee. If we do determine that there is a rental property maintenance issue and cannot resolve it over the phone, then we will dispatch a technician to resolve the issue.

If the cost of repair will be $300 or less, we will move forward with the repair and simply bill your account in our system. If we estimate that the cost could exceed $300, we will seek your approval. If you are not reachable and the situation is an emergency threatening the safety of the tenant or the structure of the home, we will take the most prudent action to minimize risk of additional damage.

If the tenant caused the maintenance issue, then we will seek to recover the expense from the tenant. In all cases (regardless of the type of repair, or the estimated cost), you and your Residential Asset Property Manager will receive a courtesy alert through our automated system which will inform you that there was a maintenance issue. If you do not want to be alerted, we can turn off that feature.

We have agreements with a wide variety of Vendors who can handle just about anything ranging from day-to-day maintenance, to turnovers, as well as rehabbing and large-scale projects.

Attorney Prepared Leases

We use the services of a Florida attorney, who specialized in the Landlord Tenant Law to prepare each lease and renewal document to give maximum protection to the owner and a fair set of terms for tenants. The attorney offers free phone consultation during the lease period and an affordable eviction cost if that need should arise.

Online Account Access

Owners can access their transaction and document records at any time of day or night and ask questions of their property manager through their secure online portal.

Home Warranty

You may wish to control the expenses on your investment Property by purchasing warranty programs. Many Owners have found this to be a very cost effective way to handle repairs on appliances, water heaters, heat and air systems and minor plumbing and electrical costs. Tenants in the property are given direct access to the warranty company and they pay for the deductible trip charge for each visit.

Our Global home warranty policy is designed specifically for landlords and can be purchase on an easy monthly payment schedule using a credit card.

E-mail our customer service department at pmteam@bhhsflpg.com for information on home warranty.

Check the documents tab in your Owner Portal for more information on these valuable services.

Our Capstone Insurance company can review your home owner policy to be sure you have adequate landlord coverage. They may also offer suggestions for structure and landlord liability coverage as well as provide vehicle insurance and umbrella policies.

Real Estate Sales and Purchase

When you are ready to sell your investment or purchase others, we can immediately connect you with a sales professional to guide your through the entire selling or buying transaction process. We provide you with Mortgage sources and our Capstone Title Company stands ready to Close the Deal!
Port Richey Area Information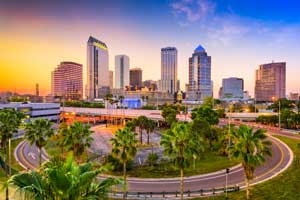 In 1883, Aaron M. Richey arrived from St. Joseph, Missouri, and settled near the mouth of the Pithlachascotee River. He established a post office in his home on July 9, 1884.
Port Richey was incorporated as a municipality in 1925, in response to the incorporation of New Port Richey the previous year. The name Port Richey is older than the name New Port Richey, as the post offices were established in 1884 and 1915, respectively.
Singer Johnny Cash owned a home along the Pithlachascotee River from 1979 until 2002.[5] Cash and his wife, June Carter Cash, inherited the house from Maybelle Carter after her death, and sold it in 2002 shortly before their deaths in 2003.Source From Wikipedia
Areas We Serve